A Conservative Platform for the Future
The road map forward is optimistic because the American people are optimistic
By John Barrasso
WashingtonTimes.com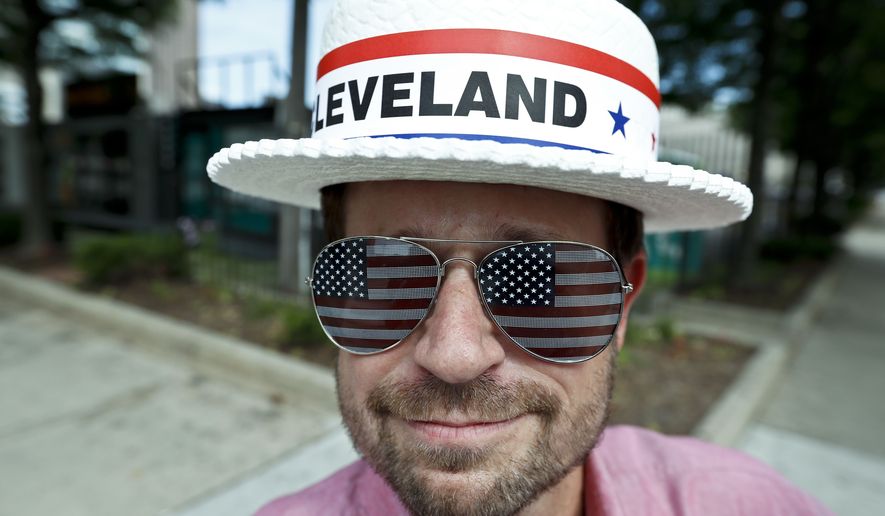 Andy Sandy wears an RNC hat and pair of American flag glasses while walking around, Sunday, July 17, 2016, in Cleveland. The Republican National Convention starts Monday. (AP Photo/Alex Brandon)
Today in Cleveland, Republicans will vote on a platform that lays out a conservative vision for our nation.
It is both an invitation for Americans to join us, and a road map for a better, stronger, more prosperous country.
Last week, 112 Republican delegates from around the nation met to debate and vote on these principles. They came from all walks of life and represented the diverse range of viewpoints in our party. Their discussion was lively, fair and — above all — respectful.
While the media made much of delegates' debate over social issues, the reality is that we all agree on the principles that unite us in a common purpose.
Our platform is optimistic because the American people are optimistic. This document lays out, in clear language, the path to uniting our country. In the past eight years, our country has been led in the wrong direction. Hard-working Americans deserve a healthy economy. Instead, many are living paycheck to paycheck, fearful of having a sick child or broken-down car.
We believe that the American people and the states — not the president with his pen and phone, not unelected federal bureaucrats — should have the power to make decisions about what's best for their families and communities.
We believe in the Constitution as our founding document and our enduring covenant. We affirm — as did the Declaration of Independence — that all are created equal, and that they are endowed by their creator with the inalienable rights to life, liberty and the pursuit of happiness.
We believe that our constitutional system — limited government, separation of powers, federalism and the rights of the people — must be preserved uncompromised for future generations.
We believe that America is exceptional. We are unlike any other nation on earth because of our historic role, first as refuge, then as defender and now as exemplar of liberty.
Over the past eight years, our standing in the world has declined significantly. Our enemies no longer fear us, and our friends no longer trust us.
As Americans and Republicans, we wish for peace, so we insist on strength. While we seek good relations with other nations, we recognize and are prepared to deal with evil. We will make America safe.
We believe that our military has been shortchanged in numbers, equipment and benefits. America deserves a commander in chief who treats our service members and veterans as assets, not as necessary inconveniences.
We believe that political freedom and economic freedom are indivisible. When they are separated, both are in peril. When united, they are invincible.
We believe that people are our nation's ultimate resource, and that the people — not the government — are the best stewards of our country's God-given natural resources.
The president and his party have dismantled our system of healthcare and replaced it with a costly and complicated scheme that takes away our freedom to choose what's best for us and our families.
Americans should not be forced into limited choices and high premiums. We know that coverage does not equal care, and that Obamacare is not working.
We believe that the president and the Democratic Party have not been accountable to the American people. In their eight years in the White House, they have nearly doubled the size of our national debt.
They have directly attacked Americans who produce the energy that warms our homes and lights our businesses, killing jobs that have sustained families and communities for generations.
They have refused to control our borders, but have micromanaged our schools, farms, businesses and religious institutions.
The president has refused to enforce the laws with which he disagrees. When Congress has declined to create a law, he has reinterpreted old laws with punishing effects. He has appointed judges that legislate from the bench instead of applying the law.
As Republicans and Americans, we cannot allow this to continue.
This platform affirms our trust in the American people and our faith in their judgment.
It is many things. It's handbook for returning decision making to the people. It's a guide to the constitutional rights of every American. And it's a manual for the sustained growth that will bring opportunity to those on the sidelines of our economy.
We invite every American to join us as we work toward a stronger, safer and more prosperous America.
• John Barrasso, a U.S. senator from Wyoming, is chairman of the Republican Platform Committee.