If You Are A Christian, VOTE Like It!
By Dave Merrick
CanadaFreePress.com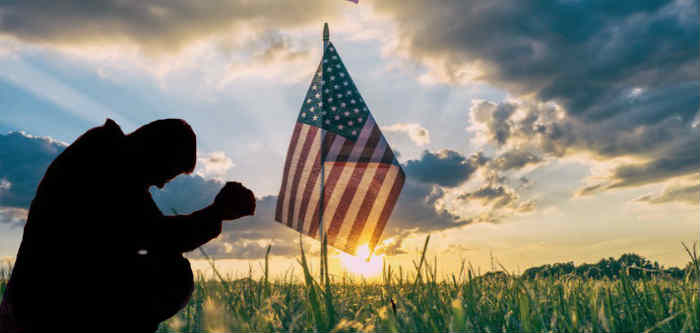 Do you consider yourself to be a Christian? If so, I offer you the following thoughts regarding your involvement with this 2016 election.
If you are a Christian, the Bible says it's completely because you are relying upon the only possible salvation offered through the sacrifice of God's Son, Jesus Christ. Your good works - keeping rules, being nice to people, trying to be a good person, and so on - will not put you one inch closer to God, regardless of what you believe about your own goodness. It is only through faith in the blood sacrifice of his Son, Jesus, that one is found acceptable before God.
Jesus himself said, "I am the way and the truth and the life. No one comes to the Father except through me." (John 14:16) But if you believe that there are other pathways to God, you are effectively reckoning Jesus to be a liar. Further, if there are several avenues to God, or there is any eternal and saving validity in any other belief system, then Jesus was indeed a deceiver and/or a madman who took his charade all the way to terminal suffering on the cross.
Salvation of your eternal soul to Jesus Christ: Following Him not only in your words, but in your actions as well
The night before He died as He prayed in the garden of Gethsemane, He even asked his Father in Heaven, "My Father, if it is possible, may this cup be taken from me. Yet not as I will, but as you will." He was not excused from his appointment with the cross.
The torturous death He chose obediently to submit Himself to, He completely accepted as the only solution to the problem of the sins of mankind. So if you believe that faith in an islamic allah or some other religious teaching is just as valid and redeeming as faith in Christ, you stand in disagreement with the one who claimed to be the only Son of God. It can't be both ways.
But if you do trust the salvation of your eternal soul to Jesus Christ, you must recognize the commonsense dictates of following Him not only in your words, but in your actions as well.
Jesus talked about how turbulent the time would be in the last days of this earth shortly before His return. The entire Bible highlights the truth that in the last days most of the biggest problems on the earth would center upon the tiny nation of Israel. Why is it today that so many people hate the Jews? Jesus was and will eternally remain a son of the family of King David, a Jew. Think about that for a moment. Are you in sympathy with the people who want to destroy Israel?
If we believe in Jesus the Christ, we must also believe in the reliability of the Bible that tells us about Him. You may feel that the Bible is simply a collection of shifting stories that have been handed down orally over the past several thousand years. But several proofs are available to show that the word of God has survived the test of time in the consistency and accuracy of its message. If that were not the case God would have no right to judge anyone - and there would have been no need for the sacrifice of Jesus for our salvation.
If you claim to believe in Jesus, you must also believe in the enemy of our souls
If you claim to believe in Jesus, you must also believe in the enemy of our souls - mightier than everything except the blood of Christ - satan the devil. And the Bible indicates that satan is a liar and the father of all lies. Further, in his lies he is deceiving as many amongst mankind as he can away from the truth of God. If you're a Christian, believing in Christ, precious and refreshing good news is in what Jesus himself said: "I have told you these things, so that in me you may have peace. In this world you will have trouble. But take heart! I have overcome the world." (John 16:33)
As to what the world would be like before the time of His return Jesus said, among other things, this: " ... You will hear of wars and rumors of wars, but see to it that you are not alarmed. Such things must happen, but the end is still to come. Nation will rise against nation, and kingdom against kingdom. There will be famines and earthquakes in various places. All these are the beginning of birth pains." (Matthew 24:6-8)
Throughout the New Testament God warns us about the time in the last days when the deception will be so thick that only those who are his children, those who are born again by the Spirit of God, will be able to tell the difference between what is really right and wrong. Paul in his second letter to Timothy said this: "But mark this: There will be terrible times in the last days. People will be lovers of themselves, lovers of money, boastful, proud, abusive, disobedient to their parents, ungrateful, unholy, without love, unforgiving, slanderous, without self-control, brutal, not lovers of the good, treacherous, rash, conceited, lovers of pleasure rather than lovers of God - having a form of godliness but denying its power. Have nothing to do with such people." (2nd Timothy 3:1-5)
I think there are lots of those people around today. Don't you?
But there are many today, some who may even have faith in Christ, who are not familiar with the truth of God's word. They run their lives on feeling and are easily swayed, in this direction and that, by a droning television and what is popular or politically correct at any moment. Such ignorant naïveté runs completely counter to the careful instructions and quite specific counsel God has given us in His word.
In America every American is given an opportunity to say yes or no to evil or good
To adult Christians who have professed affiliation with Christ for any length of time, I shouldn't have to rehearse any of the above. It should already be in the hearts and brains of all true believers. But the great shame is that I have to go over it all.
For several years I was doing comparative religious study and giving talks in churches around the country. My job was educating Christians as to how to deal with door-to-door cultists. In nearly every church I visited, I had to stop and explain the most elementary Christian doctrine before I could introduce and expose the lies of the deceiving, religious-looking organization that was the target of my expertise. It is a crying shame that so many American Christians who have a saving knowledge of Christ don't know enough of the Bible to guide themselves or their loved ones.
Cutting to the chase, in America every American is given an opportunity to say yes or no to evil or good. We are each accountable stewards of one meaningful vote at election time. Our vote can bring benefit or harm to what's left of our free nation. The persons we elect or simply allow to lead us will either help to preserve or bury the hard-earned goodness and godliness that has been enjoyed in our United States for much of the past two hundred and forty years.
While it is true that the founders NEVER intended for our nation to be run by any church, they nonetheless expected knowledgeable Christian Americans with working consciences to preserve the amazing Constitution they left for us and for us to defend the Spirit of Truth who helped them in its composition. For the past 40 years especially we have failed miserably in that charge.
If you are planning on voting for Hillary Clinton, an independent who will doubtlessly lose, or not voting at all - you have been watching too much television, haven't done your homework, and you completely deserve the loss of your freedoms (which will include any religious freedom you have taken for granted) and the unprecedented spiraling rottenness you will have helped to advance. And you will eventually be called to account for that.
"Without morals a republic cannot subsist any length of time; they therefore who are decrying the Christian religion, whose morality is so sublime and pure (and) which insures to the good eternal happiness, are undermining the solid foundation of morals, the best security for the duration of free governments."
—Charles Carroll (September 19, 1737 – November 14, 1832) delegate to the Continental Congress, andConfederation Congress and signer of the Declaration of Independence.
---
Dave Merrick, Davemerrick.us is an internationally known and published artist whose works reach into the greatest diversity of audiences. Known primarily for his astoundingly lifelike portraiture, Merrick's drawings and paintings grace the walls of an impressive array of well-known corporate and private clientele. Many of his published wildlife pieces have become some of America's most popular animal imagery.
He has more original work in the Pro-Rodeo Hall of Fame than any other artist. His wildlife and Southwestern-theme work is distributed internationally through Joan Cawley Galleries of Scottsdale AZ.