Open Questions for Pressoffice@donaldtrump.com
By Judi McLeod
CanadaFreePress.com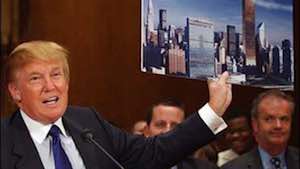 With the lib-left mainstream media circling like frenzied sharks around the Donald Trump campaign, some calling it "satire", the 'peace loving' United Nations is moving in for the takedown.
UN top bureaucrats will try for a proverbial two-bird-one-stone Trump takeout when 130—mainly anti-American world leaders—gather at UN headquarters April 21-23 to sign the COP21 climate agreement and to seek billions of US tax dollars to implement Agenda 21 & Agenda 2030, Canada Free Press (CFP) has learned.
CFP is sending this SOS to Trump at pressoffice@donaldtrump.com asking: "Will your representatives be present to counter the statements made against you by Secretary of State John Kerry, US UN Ambassador Samantha Power as well as top UN bureaucrats?"
Every under cover sabotage has its key perpetrators and the Take Trump Out perps at the UN are allegedly two: Two ex UN bureaucrats, Zha Zukang and Kandeh Yumkella (the Afro-Islamist who built the first proper mosque in the UN compound in Vienna, Austria), who have been perusing an anti-US campaign for more than a decade and are now allegedly campaigning against the presidential election of Donald John Trump.
CFP asks Trump through his press office: "Will you work to urgently stop them as the latter is in and out of the US speaking at anti-democratic, anti-free market conferences?"
It's no secret that five UN agencies - ICAO, ITU, UNIDO, UNDESA and the WHO are already in the hands of anti-American Chinese apparatchiks.
Voters want CFP to ask: "Will you abolish these UN outfits during the first year of your presidency?"
With little notice from the mainstream media, The UN system has been building a series of mosques within its premises starting at the United Nations office in Austria:
"Do you have a position on this as the UNHQ, World Bank and IMF buildings are on 'international territory' where diplomatic impunity in the name of diplomatic immunity is the norm?"
It's not just in far away Austria where UN mosques are being built because, according to Breitbart, everything's coming up prayer rugs for the UN on home turf too.
"Muslim prayers on Fridays at the United Nations headquarters in New York have begun taking up a large area next to the General Assembly Hall, shunning a designated ecumenical prayer area. (Breitbart, Feb. 17, 2016)
"There was no formal decision by the UN to host Muslim prayers. The space has simply been booked without further explanation.
Muslim prayers at the UN have been operating for some time, though UN staffers are tight-lipped about when they began and who started them.

"There is an ecumenical "meditation room" – without religious markings – that is continually open to the public and adherents of any faith. A plaque outside explains that the room was "personally planned and supervised in every detail" by former UN Secretary-General Dag Hammarskjold in 1957. Hammarskjold's aim was to create "a place where the doors may be open to the infinite lands of thought and prayer. People of many faiths will meet here…It is dedicated to the God whom man worships under many names and in many forms."
An outspoken critic of the UN's multi-billion dollar renovations since 2006, The Donald's enemies, more bitter than the mainstream media, are planning his downfall at funky Turtle Bay.
The UN should have no place in undermining the presidential campaign of Donald Trump or any one else's.
Watch your back, Mr. Trump, the UN's getting ready to bury a big shiv in it.