Talking Truth to a Sanctuary City
By Tammy Bruce
WashingtonTimes.com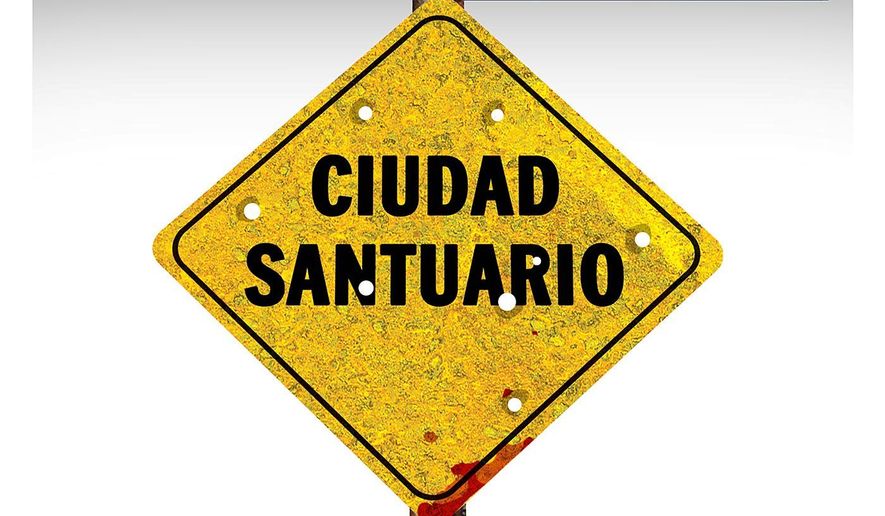 Illustration on rising criminality in sanctuary cities by Alexander Hunter/The Washington Times
"Crime in Los Angeles rose in all categories in 2015, LAPD says" ominously declares the Los Angeles Times headline. But this isn't a surprise to those of us who aren't blinded by the false narratives and fantasy world of the American left.
Los Angeles is a sanctuary city, which describes policies including the shielding of criminal illegal immigrants who are wanted by the federal government. This is the circumstance which led to Kate Steinle's murder in San Francisco by a criminal illegal immigrant who had been released by the country.
As President Obama's illegal immigrant border surge began in 2014, the Department of Homeland Security (ironically) was charged with busing them inland from the border.
Anyone not deluded or a Democrat (but I repeat myself) knew this would facilitate not just an economic disaster, but an increase in gang and drug crimes. When combined with the criminal aliens' attraction to cities that won't cooperate with federal law enforcement, you create a slum of violence, a city that tells criminals the rule of law is fluid and vague.
"For the first time in more than a decade, all categories of crime rose across Los Angeles in 2015 as police struggled to get control of the problem," the Los Angeles Times reported. "Police reported 280 homicides, up 10.2 percent from last year, and 1,097 shooting victims, a 12.6 percent increase. Rapes were up 8.6 percent and robberies rose 12.3 percent, while the biggest change came in the category of aggravated assault, which climbed 27.5 percent."
All divisions of the LAPD reported an increase in all crime, violence and property offenses. Yet never is the elephant in the city mentioned: the impact of an open border and the horrific impact a sanctuary city has on the quality of life for all residents.
I was amused with how the Los Angeles Times managed to report on this horrifying increase in every single category of crime, yet still pondered quizzically about the cause. You could almost see how twisted their tidy-whities had become. Dutifully we're told to keep the increase "in perspective"; that a new, more efficient way of counting crime may be to blame; that, hey, crime is still lower than it was in 1990.
The local NPR affiliate went so far as to report, "Criminologists say it's not necessarily time to worry." Not exactly a confidence-building comment. The truth is, when you see a pattern and people are being murdered, raped and assaulted, that is the time to worry, admit the problem and act to reverse it.
The reaction to the surge of crime in Los Angeles is like seeing the emergence of, oh the Islamic State terror group, but then pretending it's really no big deal in an effort to preserve your political narrative. The longer you let the lie prevail, the more devastating, and uncontrollable, the problem becomes. Sound familiar?
In the politically correct world of Los Angeles, the Times does manage to let slip a few clues as to the issue at hand, noting the jump in "gang-related homicides" in certain "southside neighborhoods." The LAPD, we're assured, is partnering with "gang intervention workers." Touted is the city spending an extra $5.5 million for their Gang Reduction & Youth Development program.
How and why there are so many more violent gang members is never broached. Perhaps Los Angelenos were bitten by mosquitoes transforming them suddenly into gangbangers. And if you listen carefully enough, city leadership sounds strangely like Sgt. Schultz from "Hogan's Heroes," muttering under their breath, "Nothing! We know nothing!"
Beyond the liberal world of unicorns, rainbows, gangs and murder, we do know a few things.
According to the National Review, "It is estimated that fully half of America's 41 million immigrants have settled in just five metropolitan areas: New York City–Newark, Los Angeles, Chicago, Miami, and San Francisco–Oakland. According to data from the Center for Immigration Studies, every one of these cities and their surrounding counties has sanctuary policies of some kind. Considering the illegal-alien pull factor of these policies, which Kate Steinle's murderer admitted to, it's unsurprising that the immigrant populations of these sanctuary cities includes many who are here illegally."
Los Angeles Mayor Eric Garcetti was asked after the Steinle murder if it prompted him to review his city's sanctuary policy. He said no, the Washington Examiner reported, " 'It is about establishing trust,' Garcetti said. He instituted the policy in July 2014, following the enactment of California's Trust Act, which narrowed the list of crimes under which local law enforcement authorities could detain immigrants for federal authorities."
The National Review reminds us that, due to apportionment, the illegal immigrant population in New York, New Jersey, California, Florida, and Illinois provides Democrats with eight additional representatives in Congress. "More fundamentally," says the National Review, "eight Electoral College votes could make a difference in a close election."
The LAPD's reported 19.9 percent increase in violent crime includes 280 homicides in 2015. How many of those were Kate Steinles? How many of the murders, rapes and assaults in Los Angeles were committed by illegal immigrant criminals who shouldn't even have been in the country, let alone on the street?
2016 will be a year of change in many ways for the United States. Part of that change is to stop our families from becoming collateral damage as politicians jockey for more power and money.
• Tammy Bruce is a radio talk show host and a Fox News contributor.