"Whois Find Search Background History" Valerie Jarrett
By Jeffrey A. Friedberg
CanadaFreePress.com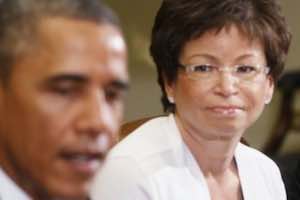 Who is Valerie Jarrett? Called by some, "The Obama-Whisperer," she is Senior Advisor to the President of the United States, and Assistant to the President for Public Engagement and Intergovernmental Affairs. She was born Valerie June Bowman, on November 14, 1956, in Shiraz, Iran. She earned a B.A. in Psychology from Stanford University in 1978. She is a licensed Chicago lawyer, having been graduated from the University of Michigan Law School with a Juris Doctor (J.D.), in 1981. Valerie Jarret is considered by many to be an important, Illinois businesswoman, and a notable, area, civic leader. As a child Valerie Jarret spoke French, and Farsi (Persian, or Iranian), lived in Iran, and London, England, and moved to Chicago, Illinois, USA, in 1963. To answer a frequently asked question, Valerie Jarrett's DNA has revealed she is of, African, French, American Indian, and Scottish ancestry. Valerie Jarrett has been described as charming, Intelligent, a very close personal friend and mentor to both Michelle and Barack Obama—not without controversy.
Toward the apparent opposite end of many glowing descriptions, Chicago Magazine had this to say, on January 21, 2014: "What exactly does Valerie Jarrett—the Chicagoan often described as a big sister or mother figure to the Obamas—do in the White House? The instant histories of the Obama White House tend to portray her as the Obamas' pit bull, a woman loyal only to the president, first lady and her own image. In a recent book on the 2012 campaign, Jonathan Alter writes that Rahm Emanuel, on agreeing to become Obama's chief of staff, recognized that Jarrett would wield such outsized power that he tried unsuccessfully to finesse her into Obama's senate seat. (Alter also speculates that Valerie Jarrett was one reason why Rahm hightailed it out of DC in late 2010 into the relative ease of the Fifth Floor.)
"...In 1991, Jarrett, then Mayor Rich Daley's deputy chief of staff, offered Michelle Robinson a job in City Hall. Before Michelle accepted, she insisted that Jarrett meet with Michelle's fiancé Barack Obama. Jarrett promptly took both under her wing and, over the years, introduced Barack to the inner Daley circle, to wealthy business people, and to the people who mattered in her enclave, Hyde Park—all of which helped Obama as he moved up from community organizer to Springfield to Washington.

"The reality is that her power stems from friendship with the first couple, forged by after-hour access, total trust that her only motive is to protect the first couple's images and advance their interests. Valerie Jarrett is not powerful because she creates and implements policy, but because she's the last person the president and/or first lady talk to, sometimes over dinner in their private dining room….

"She vacations with the first couple in Hawaii and on the Vineyard, and she can sometimes sound like their flack: Michelle is 'fabulous at 50.' Barack is 'just too talented to do what ordinary people do' (as quoted in David Remnick's The Bridge). She decides who's invited to small White House parties and state dinners."
Michelle Obama told Jodie Kantor, of the New York Times, "I can count on someone like Valerie to take my hand and say, You need to think about these three things…Like a mom, a big sister, I trust her implicitly."
According to Chicago Magazine, "Derogatory nicknames abound for Jarrett: 'Keeper of the Essence,' 'Night Stalker' (because of her access after hours to the Obamas in their private quarters), 'personal custodian of the president's lofty motives and gifts.'"
So-called, "derogatory nicknames," apparently do not end with the above-given descriptions.
According to JudicialWatch.org, on June 22, 2015, "Federal Bureau of Investigation (FBI) files obtained by Judicial Watch reveal that the dad, maternal grandpa and father-in-law of President Obama's trusted senior advisor, Valerie Jarrett, were hardcore Communists under investigation by the U.S. government.
"Jarrett's dad, pathologist and geneticist Dr. James Bowman, had extensive ties to Communist associations and individuals, his lengthy FBI file shows. In 1950 Bowman was in communication with a paid Soviet agent named Alfred Stern, who fled to Prague after getting charged with espionage. Bowman was also a member of a Communist-sympathizing group called the Association of Internes and Medical Students. After his discharge from the Army Medical Corps in 1955, Bowman moved to Iran to work, the FBI records show.

"…It's been well documented that Valerie Jarrett, a Chicago lawyer and longtime Obama confidant, is a liberal extremist who wields tremendous power in the White House. Faithful to her roots, she still has connections to many Communist and extremist groups, including the Muslim Brotherhood. Jarrett and her family also had strong ties to Frank Marshal Davis, a big Obama mentor and Communist Party member with an extensive FBI file.
"JW has exposed Valerie Jarrett's many transgressions over the years, including her role in covering up a scandalous gun-running operation carried out by the Department of Justice (DOJ). Last fall JW obtained public records that show Jarrett was a key player in the effort to cover up that Attorney General Eric Holder lied to Congress about Fast and Furious, a disastrous experiment in which the Bureau of Alcohol, Tobacco Firearms and Explosives (ATF) allowed guns from the U.S. to be smuggled into Mexico so they could eventually be traced to drug cartels. Instead, federal law enforcement officers lost track of hundreds of weapons which have been used in an unknown number of crimes, including the murder of a U.S. Border Patrol agent in Arizona.

"In 2008 JW got documents linking Valerie Jarrett, who also served as co-chairman of Obama's presidential transition team, to a series of real estate scandals, including several housing projects operated by convicted felon and Obama fundraiser/friend, Antoin 'Tony' Rezko. "According to the documents obtained from the Illinois Secretary of State, Valerie Jarrett served as a board member for several organizations that provided funding and support for Chicago slum projects operated by Rezko."
According to AmericanThinker.com, on August 14, 2012: "Edward Klein, former foreign editor of Newsweek and editor of the New York Times Magazine for many years, describes Jarrett as 'ground zero in the Obama operation, the first couple's friend and consigliere.' Klein—who claims he used a minimum of two sources for each assertion in his book on the Obama presidency, The Amateur—writes in detail about Jarrett opposing the raid on bin Laden. She told Obama not to take the political risk. Klein thought Obama ignored Jarrett's advice. (Richard) Miniter tells us he listened to her, three times telling Special Operations not to take the risk to go after bin Laden.
"We need to understand the role Valerie Jarrett plays in Obama's private and political life.

"'If it wasn't for Valerie Jarrett, there'd be no Barack Obama to complain about,' starts Klein's chapter on Jarrett. He quotes Michelle Obama on Jarrett's influence over her husband: 'She knows the buttons, the soft spots, the history, the context.'

"No one outside Michelle has the access or power over Obama's decision-making like Jarrett does. Here's an odd little fact that gives some insight into what kind of president Obama is: Michelle, Michelle's mother, and Valerie, and only a few others in Washington, are allowed to call Barack by his first name. After work, Jarrett joins Obama at night in the Family Quarters, where she dines often with the First Family. She goes on vacation with them.

"...She is the gatekeeper, but she is also much more than that. She occupies Karl Rove's and Hillary's old office and has an all-access pass to meetings. She shows up at the National Security Council, at meetings on the economy and budget. She stays behind to advise Obama on what to think and do. Obama uses her as his left-wing conscience. Klein's sources describe how at each pressing issue, Obama turns to ask her, 'What do you think the right thing to do is?' As president, he likes to have her next to him, 'as the voice of authentic blackness in a White House that is staffed largely by whites.'

"A longtime friend told Klein that Jarrett is the 'eyes, ears and nose' of the Obamas. She tells them whom to trust, who is saying what, whom to see at home and abroad. Michelle wants her there: 'I told her ... it would give me a sense of comfort to know that (Barack) had somebody like her there by his side.' As Obama told the New York Times, 'Valerie is one of my oldest friends. ... I trust her completely.'

"…When Valerie Jarrett hired Michelle to work for Daley and befriended her, the Obamas gained access to the exclusive world of upper-class black Chicago politics. Valerie knew everyone whom it was important to know in black and Jewish money circles. She gave Barack entrée and legitimacy. She financed and promoted his ambitions for national office.

"Obama finally belonged… Daley finally had to fire her after a scandal erupted over her role in misuse of public funds in the city's substandard public housing. She went on to become CEO of Habitat Executive Services, pulling down $300,000 in salary and $550,000 in deferred compensation. Again, she managed a housing complex that was seized by government inspectors for slum conditions. The scandal didn't matter to Obama.
Allegedly, according further to American Thinker, "Every insider in Chicago told Klein the same thing: Jarrett has no qualifications to be the principal advisor to the president of the United States. She doesn't understand how Washington works, how relations with Congress work, how the federal process works. She doesn't understand how the economy works, how the military works, how national security works. But she understands how Obama works.
"The president turns to Valerie Jarrett for definitive advice on all these issues. She has given him terrible advice over and over, and still he turns to her."
On 6/2/2015, WnD.com reported: "...Obama critics have suspected that the president's 'tilt toward Iran' in negotiations over that rogue nation's nuclear program is because of the influence of Valeria Jarrett….
"...Retired Lt. Gen. William G. 'Jerry' Boykin, former deputy undersecretary of defense for intelligence under President George W. Bush, spotlighted Jarrett's influence in a Fox News interview in February. 'There are many who are now saying that [Jarrett] is really the architect of this non-treaty with the Iranians,' he said, 'which ultimately will result in the Iranians having a nuclear program, and America having to accept a nuclear-armed Iran."
—I could go on, but information about Valerie Jarret from this point seems to devolve into untestable and unprovable allegations about her possible "connections," to this group or that group, and so on. It's all available online, at the moment. I'd suggest you look it up yourself; that way it will be more—or less—believable to you personally. You research it and see what you think about it all, for yourself.
Reader, if you like the above "good" information, and hate the above "bad" information, then you may admire or even love Valerie Jarret and Barack Obama—individually, or as a political, strategic team. And, by extrapolation, you may be someone who wants to, or will, vote for Bill Clinton's Wife. But, please be advised there are those who will not follow your lead.
Which are you?
Tell the world what you think—and why. Quickly.
I mean, it feels like something's coming….
...doesn't it?